Centreville Bank Charitable Foundation 2022 Recipients of the Robert O. Pare College Scholarship
August 9, 2022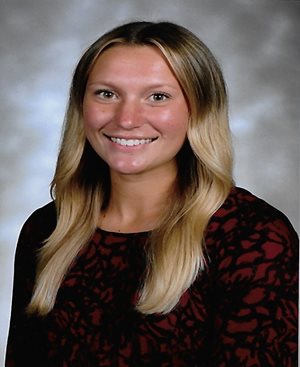 Centreville Bank recently recognized Sofia DaSilva of East Providence, RI, and Aimee Girard of Waterford CT. Each recipient received $5,000. to be used towards their college education from the Centreville Bank Charitable Foundation.
The Centreville Bank Charitable Foundation today announced the 2022 recipients of the Robert O. Pare College Scholarship.
Sofia DaSilva of East Providence, RI, and Aimee Girard of Waterford, CT, each will receive $5,000 towards their college education from the Centreville Bank Charitable Foundation.
Over the course of 55 years, Robert O. Pare served Centreville Bank in a variety of roles, including president, trustee and corporator. Centreville Bank's board of directors established the scholarship in 2018 upon Pare's retirement. The intention of the scholarship is to acknowledge local students who positively influence their communities as Pare did while at Centreville.
"The bank scholarship is a tribute to Centreville's long-standing commitment to serving the community," said Centreville Bank President, Chief Executive Officer and Chairman of the Board Harold M. Horvat. "Both of these young women epitomize Centreville's philosophy of giving back. I congratulate them and wish them success with their college careers and future endeavors."
Each of the scholarship recipients were asked to submit an essay showcasing the valuable lessons learned through community service and the impacts they have had on them. The winning essays discussed a range of involvement, from educating elementary and pre-school students about music and Spanish to working in food pantries and fundraising for non-profit organizations.
"People want to belong to something more, something bigger than themselves," wrote DaSilva, who focused her essay on her volunteer work with young students, her church, and local library, and how the experience has enabled her to become closer to her community.
DaSilva has been involved with several organizations, including Banda Nova Alianca, where she helped provide free music education to children in the community. She also participated in a variety of fundraisers for her Church's Holy Spirit Society, volunteered at her local library working with the elderly, and raised money for the Good Neighbors food assistance program. "While at times organizing an event with a variety of personalities, ages, and cultural differences can be daunting, it has taught me patience, teamwork, and the ability to respect each person's ideas," added DaSilva.
DaSilva will attend the University of Rhode Island this fall.
Girard, the recipient from the Connecticut area, attributes much of her personal growth and leadership skills from her volunteerism and involvement in the broader community. In her essay, she described her experience with the Spanish Honor Society where she served as a group leader, working with elementary students and creating Spanish learning activities aimed to inspire them to learn a foreign language through fun.
Girard, who is a non-native Spanish speaker, also volunteered at the New London Whalers Helping Whalers Food Pantry stocking shelves, assisting families, and preparing fresh take-home meals. She was able to foster relationships with her fellow volunteers, the families that visit the pantry, while applying her Spanish language skills to assist clients that did not speak English. She reflects: "My volunteer experience has helped me interact positively with others, value diversity, recognize the importance of service, and gain perspective about others in my local community.
Girard will attend Southern Connecticut State University in the fall and will study nursing.
For more information about the Robert Pare Scholarship, please visit https://www.centrevillebank.com/Community/Local-Support/College-Scholarship
The Centreville Bank Charitable Foundation was established as a nonprofit, charitable organization in 2006 by the Board of Trustees to further the philanthropic mission of the bank. For more information, visit https://www.centrevillebank.com/Community/Local-Support/Community-Commitment
###
About Centreville Bank
Founded in 1828 and headquartered in West Warwick, Rhode Island, Centreville Bank is a full-service mutual bank operating through nine branch locations in Coventry, Cranston (two locations), East Greenwich, Narragansett, North Kingstown, West Greenwich, Warwick, West Warwick, and a loan production office in Providence. In addition, Centreville Bank serves the Eastern Connecticut market with eight offices located in Danielson, Gales Ferry (Ledyard), Griswold, Norwich, Plainfield, Pomfret, and Putnam (two locations). Centreville currently has total assets of $1.9 billion. For more information, please visit www.centrevillebank.com.