A trusted and local resource since 1828.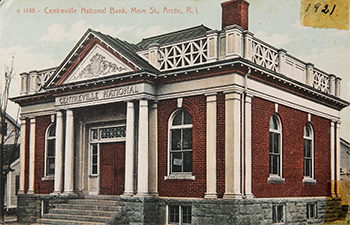 In 1828, only 38 years after Rhode Island was made a state, Centreville Bank, or the Bank of Centreville as it was originally known, was founded in West Warwick by local business and civic leaders, textile manufacturer John Greene and surgeon Sylvester Knight. Following the Civil War, a national charter was taken out to become Centreville National Bank and in 1888 the Bank's sister organization, Centreville Savings Bank was founded.
The year 1901 saw Centreville National Bank/Centreville Savings Bank relocate to Main Street in the village of Arctic and the Bank celebrated its centennial in 1928 with the opening of a new headquarters at a different Main Street location, where it still stands today. Fast forward to 1993 when, now with additional branches in local communities, Centreville National Bank and Centreville Savings Bank officially merged to become one entity, simply known as Centreville Bank.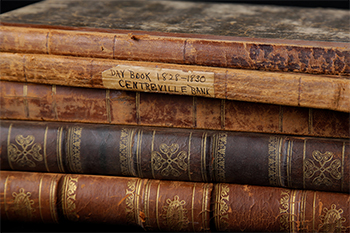 So as you can see, pretty much since we've been in the Ocean State, Centreville Bank has been working in a tradition of fair and conservative banking while simultaneously evolving with our customer's needs. Our people, products, and services cater to the diverse needs of our peers in the community. Our commitment to helping our customers meet their goals and strengthen their financial education is unwavering and future-focused.
In 2020 Centreville Bank expanded it's footprint not only in Rhode Island with the opening of a Loan Center in the heart of Providence, and a new branch locations in Warwick and Rolfe Square Cranston, but also expanded in to Eastern Connecticut with the acquisition of Putnam Bank. The joining of the two banks added 8 additional branches to the network. Putnam Bank, now a Division of Centreville Bank is an institution with deep local roots as well, and mirrors the values of Centreville Bank making for an easy integration.
Whether it's mortgages, checking accounts, online banking, or our charitable giving, our genuine commitment to our Southern New England communities and neighbors is steeped in everything we do. If you have questions about how we can assist you, please contact us today!