Centreville Bank Charitable Foundation Donates $284,000 to 13 Organizations Throughout Rhode Island and Connecticut
April 7, 2022
The Centreville Bank Charitable Foundation has awarded $284,000 in funding to 13 organizations throughout Rhode Island and Connecticut, today announced Harold M. Horvat, bank President, CEO and Chairman.
"As a community bank, we remain committed to helping to strengthen the lives of people in Rhode Island and Connecticut, said Horvat. "We embrace this responsibility by supporting organizations that are making a positive impact through innovative and collaborative programs. These recipients of our Charitable Foundation grants are making a difference where it is needed most."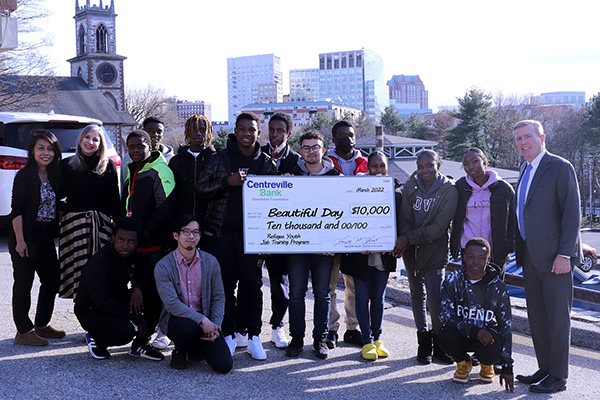 The Centreville Bank Charitable Foundation awarded a $10,000 grant to Beautiful Day, a Providence non-profit that helps refugees adjust to life in America by offering paid, on-the-job training. The funds will be used for the Refugee Youth Job Training Program. Shown here at a recent check presentation are: (second row, far right) Hal Horvat, President and CEO of Centreville Bank; Maliss Coletta, Director of Training for Beautiful Day (second row, far left); Paola Fernandez, Vice President Community Relations Officer for Centreville; Scott Yi, Youth Teacher, Beautiful Day (front row, second from left) along with a group of youth program participants.
Rhode Island organizations receiving first quarter grants are:
Connecticut organizations receiving first quarter grants are:
Girl Scouts of CT (Hartford) The $2,500 grant will support participation of girls from the Putnam, Plainfield, Griswold, Ledyard, and Killingly areas and enable them to attend the Laurel Resident Camp program.

Quinebaug Valley Community College Foundation (QVCC) (Danielson) A grant of $75,000 has been awarded to QVCC to support the Dr. Robert E. Miller Fund, which has been established with the purpose of increasing economic security for underserved student populations, specifically English Language Learners (ELL) and Workforce Development/Adult Education populations. The funds will be used to meet student and program needs.
The Centreville Bank Charitable Foundation was established as a nonprofit, charitable organization in 2006 by the Board of Trustees to further the philanthropic mission of the bank. For more information, or to apply for a grant, visit: https://www.centrevillebank.com/Community/Local-Support/Community-Commitment

About Centreville Bank
Founded in 1828 and headquartered in West Warwick, Rhode Island, Centreville Bank is a full-service mutual bank operating through nine branch locations in Coventry, Cranston (two locations), East Greenwich, Narragansett, North Kingstown, West Greenwich, Warwick, West Warwick, and a loan production office in Providence. In addition, Centreville Bank serves the Eastern Connecticut market with eight offices located in Danielson, Gales Ferry (Ledyard), Griswold, Norwich, Plainfield, Pomfret, and Putnam (two locations). Centreville currently has total assets of $1.9 billion.