Centreville Bank Charitable Foundation Donates Over $113,000 to 15 Organizations In RI And CT.
January 6, 2021
This brings the Foundation's 2020 total giving to over $1 million
for the first time in the Bank's history.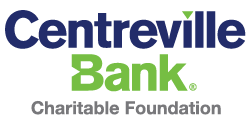 (West Warwick, RI, & Putnam, CT) January 5, 2021 – The Centreville Bank Charitable Foundation has awarded $113,861 in funding to 15 organizations in Rhode Island and Connecticut, today announced Harold M. Horvat, bank President, CEO and Chairman.
This round of charitable giving brings total grants awarded to $1,063,861 for 2020, the largest annual giving amount in bank history.
"To state the obvious, this has been a challenging year for so many individuals and organizations," said Horvat. "We made a determined effort early in the year to dig deep to support as many organizations as possible that are helping those hardest hit by the pandemic specifically, but also by life in general. We're thankful to be in a position to award this level of charitable funding and hope that it makes a difference in our Rhode Island and Connecticut market areas."
Rhode Island organizations receiving fourth quarter grants are:
Connecticut organizations receiving fourth quarter grants are:
The Centreville Bank Charitable Foundation was established as a nonprofit, charitable organization in 2006 by the Board of Trustees to further the philanthropic mission of the bank.

About Centreville Bank and Putnam Bank
Founded in 1828 and headquartered in West Warwick, Rhode Island, Centreville Bank is a full-service mutual bank operating through nine branch locations in Coventry, Cranston (two locations), East Greenwich, Narragansett, North Kingstown, West Greenwich, Warwick, and West Warwick, and a loan production office in Providence. In addition, Putnam Bank, which is headquartered in Putnam, Connecticut, operates as a division of Centreville Bank and serves the Eastern Connecticut market with eight offices located in Danielson, Gales Ferry (Ledyard), Griswold, Norwich, Plainfield, Pomfret, and Putnam (two locations). Centreville currently has total assets of $1.9 billion. For more information, please visit www.centrevillebank.com and www.putnambank.com.