Centreville Bank Charitable Foundation Awards $10,000 to Local Students Through Robert Pare Scholarship
June 26, 2023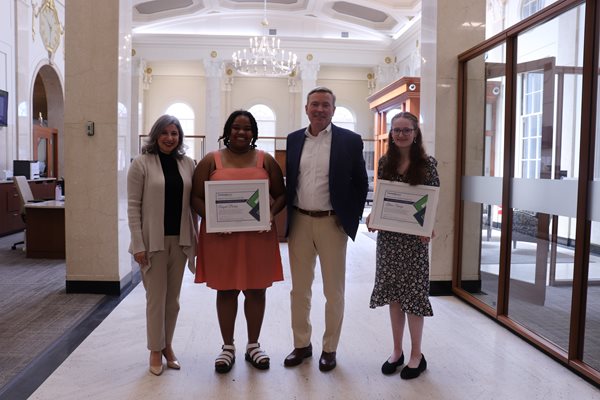 Centreville Bank Charitable Foundation Awards $10,000 to Local Students
Through Robert Pare Scholarship
(WEST WARWICK, RI) June 26, 20
23
─
The Centreville Bank Charitable Foundation announced the 202
3

recipients of the Robert O. Pare College Scholarship today.
Amyah Bishop of
Pawtucket,
RI, and
Lillian Sharpe of
Moosup
, CT, will each receive $5,000 towards their college education from the Centreville Bank Charitable Foundation.
This scholarship is a tribute to former employee Robert O. Pare, who served Centreville Bank in a variety of roles including president, trustee and corporator over the course of his 55-year tenure. Upon Pare's retirement in 2018, Centreville's board of directors created this scholarship to honor his legacy. The intention of the scholarship is to recognize and support local students who positively influence their communities as Pare did while at Centreville.
"This scholarship embodies Centreville's ongoing dedication to serving the community," said
Centreville Bank President, Chief Executive Officer, and Chairman of the Board Harold M. Horvat.
"Amyah and Lillian exemplify Centreville's philosophy of giving back. I congratulate these young women and wish them success in their academic careers and all their future endeavors."
Scholarship applicants were asked to submit an essay showcasing the valuable lessons learned through community service and the impacts they have had on them.
"When we live in communities where everyone gets involved, and we all help each other, we thrive," wrote Amyah Bishop, who focused her essay on her volunteer work with the YMCA to provide food and resources to disadvantaged youth. Bishop reflects that her service allowed her to view her community as a safe space and feel happy knowing she was helping.
Bishop was primarily involved with the Youth Health Equity Zone at the YMCA, where local teens identify problems in the community and offer possible solutions. Her work ranged from food distribution to organizing basketball tournaments. She found it inspiring and empowering to be able to create real change at such a young age. Bishop adds that this service has allowed her to, "encourage kids my age to use their voices, and I continue to let them know that their voices matter."

Bishop will attend Emerson College this fall.
Lillian Sharpe, the other Pare Scholarship recipient, attributes much of her and her family's success to her community's help during a time of struggle. After being diagnosed with Leukemia in 2018, the community rallied around the Sharpes. Now she hopes to do the same. In her essay, she described her experience volunteering at the Ekonk Community Grange organization and Dana Farber Hospital (where she received her cancer treatments).
Sharpe wrote,
"During this time the community work I did was a lot different than what I was used to. I went from helping weed public gardens to sitting at my computer creating Grange programs for meetings, focused on getting people excited to help with community service and increasing memberships." Even though she was facing serious health difficulties Sharpe continued to do her best to serve the community in any way she could. She also
participated in the Dana Farber Jimmy Fund Walk, raising over $1,600 in an effort to give back to the hospital that helped her.
Sharpe also writes about her desire to continue her service in the future by working as a teacher.

She will attend Quinebaug Valley Community College (QVCC) in the fall to study education.
For more information about the Robert Pare Scholarship, please visit
https://www.centrevillebank.com/Community/Local-Support/College-Scholarship
The Centreville Bank Charitable Foundation was established as a nonprofit, charitable organization in 2006 by the Board of Trustees to further the philanthropic mission of the bank.
For more information, visit
https://www.centrevillebank.com/Community/Local-Support/Community-Commitment
About Centreville Bank
Founded in 1828 and headquartered in West Warwick, Rhode Island, Centreville Bank is a full-service mutual bank operating through 14 Rhode Island locations in Coventry, Cranston (two locations), East Greenwich, Middletown (loan office), Narragansett, Newport, North Kingstown, Providence (loan office), Smithfield, Warren, Warwick, West Greenwich, and West Warwick. In addition, Centreville Bank serves the Eastern Connecticut market with seven branches located in Danielson, Gales Ferry (Ledyard), Griswold, Norwich, Plainfield, Pomfret and Putnam. Centreville currently has total assets of $2 billion. For more information, please visit
www.centrevillebank.com
.