Junior Achievement Honors Local Community and Business Leaders at 20th Annual Profile in Excellence Awards
May 25, 2023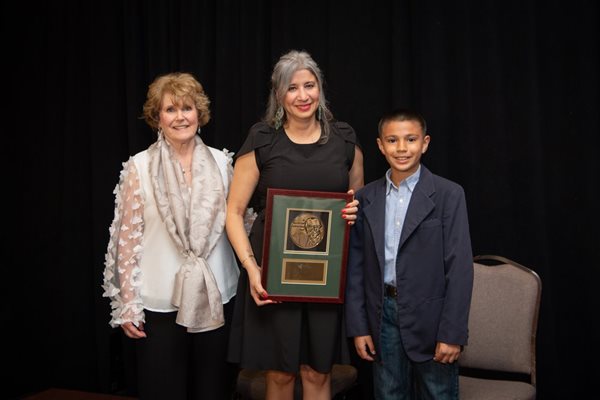 (Photo attached from left to right: Janet Raymond, Junior Achievement of RI Board Chairwoman; Paola Fernandez, Senior Vice President, Community Development Officer at Centreville Bank; Giancarlos Paz, 5th grade Junior Achievement RI student.)


JUNIOR ACHIEVEMENT HONORS LOCAL COMMUNITY AND BUSINESS LEADERS AT 20th ANNUAL PROFILE IN EXCELLENCE AWARDS
Morris J.W. Gaebe Profile in Excellence, Educator of the Year, and JA Community ImpACT Awards Awarded at Providence Marriott Downtown
Warwick, RI – More than 200 community and business leaders were on hand as Junior Achievement of Rhode Island (JA) held its annual Morris J.W. Gaebe Profile in Excellence Awards Dinner on May 4th at the Providence Marriott Downtown. The award, JA's highest honor, is named after Morris J.W. Gaebe, the former chancellor emeritus of Johnson & Wales University, and recognizes leaders who demonstrate excellence in the Rhode Island community. These leaders have demonstrated courageous thinking and actions, vision and innovation, inspiring leadership, and community-mindedness.
This year's honorees were:
•
Paola Fernandez,
Senior Vice President/Community Development Officer, Centreville Bank
•
Meghan Hughes,
President, Community College of Rhode Island
• T.R. McGrath,
Chef/Owner, McGrath Clambakes and Catering
• Webster Bank,
Represented by Marissa Weidner, Chief Corporate Responsibility Officer and President, Webster Bank Charitable Foundation
"It is an honor and a pleasure to be among all the honorees this evening and listed in this recognition," said Morris J.W. Gaebe Awardee Paola Fernandez, senior vice president, community development officer at Centreville Bank. "I get to do what I love. I get to do what I love because I work for a company that has made an incredible commitment to the community and to give back. They have charged me with leading the way in community investing and engaging in activities like Junior Achievement. At the end of the day what we want to do is change lives of young people and inspire them to think big, to be creative, to be positive, and feel like they can change the world because they can."
Junior Achievement's mission is to inspire and prepare young people to succeed in a global economy. For over 100 years, Junior Achievement of Rhode Island has been providing hands-on education programs to Rhode Island students.
In addition to the Profile in Excellence Awards, JA also presented the Educator of the Year to Gary McCoombs, principal, Cottrell F. Hoxsie Elementary School and the JA Community ImpACT Award to Congressman David Cicilline.
"It's wonderful to be in a room with people who are dedicated to education and the young people of our state, and in so many important ways impact their lives," said Congressman David Cicilline. "It's a tremendously important award and I feel really honored because so much of the work I have done is really focused on what we can do to improve the opportunities for the young people of our state and in this country. And economic opportunities are key among the opportunities because we live in a rapidly changing economy and young people are confronting all kinds of tremendous stresses in their life. Junior Achievement is really critical in providing desperately needed information about career success, about job training opportunities, about educational opportunities both in school and out of school."
The class of 2023 award recipients were honored at a special reception hosted by JA Board Chairwoman Janet Raymond, senior vice president of operations & economic development, Greater Providence Chamber of Commerce. "Tonight, we have celebrated six very special awardees for their dedication to excellence for the Rhode Island community and the Junior Achievement mission," said Janet. "On behalf of the Junior Achievement board of directors, we would like to thank our honorees, sponsors, guests, JA volunteers, educators, and donors for joining us tonight."
Students from local schools who are participants in JA programs assisted in the presentation of awards to this year's honorees. Those students were from Cottrell F. Hoxsie Elementary School in Warwick, Esek Hopkins Middle School in Providence, George J. West Elementary School in Providence, Metropolitan Regional Career and Technical Center High School, Charles E. Shea High School in Pawtucket, and Virginia M. Cunningham Elementary School in Pawtucket.
A special thank you to presenting sponsor Cox Business as well as event sponsors KPMG, Webster Bank, Amica Insurance, and Centreville Bank.
About Junior Achievement of Rhode Island
Junior Achievement is the state's largest organization dedicated to giving young people the knowledge and skills they need to own their economic success, plan for their future, and make smart academic and economic choices. JA programs are delivered by corporate and community volunteers, and provide relevant, hands-on, experiences that give students from kindergarten through high school knowledge and skills in financial literacy, work readiness, and entrepreneurship. Today, JA reaches more than 12,500 Rhode Island students per year in more than 54 schools in 18 districts across Rhode Island. Visit http://jarhodeisland.org for more information or connect with us on Facebook at https://www.facebook.com/JARhodeIsland.