Josh Varone Joins Centreville Bank as SVP, Human Resources
August 2, 2022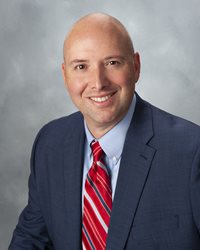 Joshua Varone Joins Centreville Bank as Senior Vice President, Human Resources
(WEST WARWICK, R.I.) August 2, 2022 – Centreville Bank President, Chief Executive Officer and Chairman of the Board Harold M. Horvat today announced that Joshua "Josh" Varone has been named Senior Vice President, Human Resources.
Varone is responsible for the direction of all human resources initiatives including developing and implementing HR programs, policies and procedures that attract and retain the best possible talent to serve the bank as well as maximizing employee engagement and driving a positive workplace culture. He works closely with other members of the leadership team to provide strategic level support and ensure that Centreville Bank remains an employer of choice within the industry.
"Our Centreville employees are our most valuable assets and both talent retainment, and acquisition are vital to our organization, said Horvat. "Josh's leadership and experience in virtually every aspect of HR including recruitment and employee relations, talent development, training, and organizational development ─ with both local and global companies ─ are critical to our success, particularly as we grow."
Varone has nearly 20 years' experience in human resources. Most recently he was the Chief Human Resources Officer at Rhode Island Medical Imaging, Providence. Prior to that, he was the Director of Human Resources at AAA Northeast, Providence.
Varone earned a Bachelor of Arts degree from UMass Dartmouth and a Master of Arts degree from Providence College. He is an active member of the Society for Human Resource Management (SHRM), Alexandria, VA, and a member of its local chapter. Varone is designated as a Certified Professional (CP) from SHRM and earned a Professional in Human Resources Certificate (PHR) from the Human Resources Certification Institute, Alexandria, VA, as well as a Professional Recruiter Certificate (PRC) from AIRS by ADP, Findlay, OH.
Varone is an adjunct professor at Bryant University, Smithfield, RI where he develops and teaches HR courses for the University's Executive Development Center. He previously served on the Advisory Board of "The Hire," a Providence-based recruiting company where he advised the organization on HR policies. Varone is also active in his community as a Little League Baseball coach for the town of Barrington where he currently resides.