Josh Varone of Centreville Bank Recognized with Bob Gatti Mentor of the Year Award from Northeast HR Association
November 2, 2022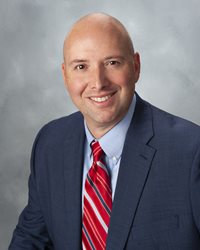 Josh Varone of Centreville Bank Recognized with
Bob Gatti Mentor of the Year Award from Northeast HR Association
(WEST WARWICK, R.I.) November 2, 2022 – Josh Varone, SVP of Human Resources for Centreville Bank was recently recognized with the Northeast HR Association (NEHRA) 2022 Bob Gatti Mentor of the Year award at the organization's annual conference which took place on October 6 in Newport, R.I.
NEHRA supports and advances the role of HR professionals with educational programs and networking and is the largest HR organization in the Northeast. Named after one of NEHRA's founding members and a passionate advocate of mentorship, "the Bob Gatti Mentor of the Year Award serves to honor Bob's legacy by recognizing an individual whose mentoring efforts have left a tangible mark on one or more HR professionals."
"Josh Varone exemplifies what the Bob Gatti Mentor of the Year Award is all about," said Tracy Burns, Chief Executive Officer of NEHRA. "His commitment to providing career guidance and assisting others through their career challenges and helping them to succeed is extraordinary."
Varone has more than 20 years of experience in human resources including recruitment and employee relations, talent development, training, and organizational development.
Upon learning of the award, Varone said: "I am deeply appreciative and humbled by this honor. This award represents many years of partnering with colleagues who have worked hard to chase their professional goals. Thank you to all of you who I have had the privilege to work alongside and have a front row seat to your professional growth and career journeys."
Varone earned a Bachelor of Arts degree from UMass Dartmouth and a Master of Arts degree from Providence College. He is an active member of the Society for Human Resource Management (SHRM) and has a SHRM designation as a Certified Professional (CP). He earned a Professional in Human Resources Certificate (PHR) from the Human Resources Certification Institute, Alexandria, Va., as well as a Professional Recruiter Certificate (PRC) from AIRS by ADP, Findlay, Ohio.
Varone is an adjunct professor at Bryant University, Smithfield, R.I., where he develops and teaches HR courses for the University's Executive Development Center. He previously served on the Advisory Board of "The Hire," a Providence-based recruiting company where he advised the organization on HR policies. Varone is also active in his community as a Little League Baseball coach for the town of Barrington where he currently resides.