Kelly Chippas Joins Centreville Bank as Vice President, Sales Executive
May 25, 2021
Centreville Bank President, CEO and Chairman of the Board Harold M. Horvat today announced that Kelly Chippas has joined the bank as vice president, sales executive, head of the customer contact center and interim head of government banking.
Chippas is responsible for the development and execution of the bank's sales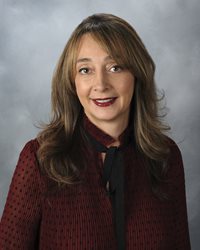 strategy and support throughout the branch network, the customer contact center, and the residential lending department. Chippas also provides oversight of the bank's Customer Contact Center to assure quality and accurate responses to customer inquiries. As interim head of government banking, she ensures that the bank's municipal customers receive the appropriate services and products they need to effectively manage city/town finances.
"Kelly has a diverse background in banking that includes management, sales, and customer experience, so she will contribute greatly to Centreville in this multi-faceted role," said Horvat. "Having a unified sales strategy ensures that our customers receive guidance about which products and services best meet their needs, while we focus on our customer contact center to provide them with accurate and timely assistance."
Chippas comes to Centreville Bank with some 12 years of experience in banking. Most recently she was director, district executive, vice president at Santander Bank N.A. Prior to that, she was senior vice president of sales at Bank of America.
Chippas earned a bachelor's degree in Business Management from UMass Dartmouth. She has been recognized as a top sales performer in her previous positions. Chippas currently resides in Shrewsbury, MA.
About Centreville Bank
Founded in 1828 and headquartered in West Warwick, Rhode Island, Centreville Bank is a full-service mutual bank operating through nine branch locations in Coventry, Cranston (two locations), East Greenwich, Narragansett, North Kingstown, West Greenwich, Warwick, and West Warwick, and a loan production office in Providence. In addition, Putnam Bank, which is headquartered in Putnam, Connecticut, operates as a division of Centreville Bank and serves the Eastern Connecticut market. Centreville currently has total assets of $1.9 billion. For more information, please visit www.centrevillebank.com.