Leland R. Merrill promoted to Executive Vice President, Chief Lending Officer
November 17, 2022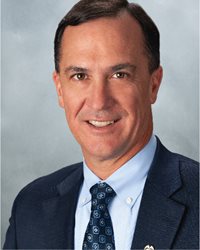 Centreville Bank Promotes Leland R. Merrill to
Executive Vice President, Chief Lending Officer
(WEST WARWICK, R.I.) November 16, 2022 - Centreville Bank President, Chief Executive Officer and Chairman of the Board Harold M. Horvat today announced that Leland "Lee" R. Merrill, Jr. has been promoted to the position of executive vice president, chief lending officer.
In this expanded role, Merrill is responsible for overseeing the commercial and residential lending business throughout Rhode Island and Connecticut.
"Lee continues to be both a leader and an innovator in the commercial and residential lending space, having already made a significant impact during his short time at Centreville," said Horvat. "As we continue to expand our local business lending, we will look to Lee for his experience and strong relationships in this field."
With over 25 years of experience in community and regional banking, Merrill brings a deep understanding of the commercial and residential lending space. Initially joining Centreville Bank in March 2022, Merrill previously held positions at BankNewport, where he served as executive vice president, COO and chief lending officer. Prior to that, he was a commercial lender at Citizens Bank.
Merrill earned an MBA in Finance from the University of Rhode Island, Kingston, and a bachelor's degree from the University of Vermont in Burlington. He is also a graduate of the ABA's Stonier Graduate School of Banking, University of Pennsylvania, Philadelphia, PA.
Merrill currently serves as a board member for both the Newport County YMCA and BancAlliance and is a former Board member of the Greater Providence Chamber of Commerce and former Chair of the Newport County Advisory Fund, a division of the Rhode Island Foundation.