Maria Curvelo Named Customer Experience Executive
April 30, 2021
Centreville Bank President, Chief Executive Officer and Chairman, Harold M. Horvat, announced today that Maria A. Curvelo has been named customer experience executive.
In this newly created position, Curvelo is responsible for ensuring that Centreville Bank is responsive to customer needs in all areas of their banking experience. This involves creating a strategic customer experience plan and establishing a customer experience standard that will serve as a guide throughout all areas of the bank, which includes product/service development and timely resolution to customer concerns.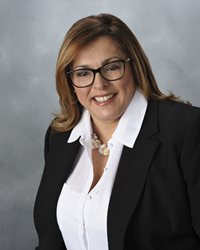 "This new position is extremely important to our overall operation, especially as we continue to refine our offerings and expand geographically," said Horvat. "The need to maintain a high level of quality in all that we do is something that our customers expect; we're committed to that high standard. Maria has the experience and strategic acumen to assure that we stay focused and deliver on our value proposition."
Curvelo has more than 16 years' experience working in the banking industry, 13 of those years were at Bank of America as a business support manager and team manager. Most recently, she was a district executive at Santander Bank in New Bedford, Massachusetts.
Curvelo earned a Bachelor's Degree in Political Science and Legal Studies from Bridgewater State College. She also earned a Corporate Management and Training Certificate from Brown University, as well as an Introduction to Mortgage Banking Certificate from the Mortgage Bankers Association. Curvelo has volunteered at various organizations such as the Rhode Island Food Bank. In 2017, she was Lincoln Rhode Island Adopt a Family Champion. Curvelo currently resides in Dartmouth, MA.
About Centreville Bank
Founded in 1828 and headquartered in West Warwick, Rhode Island, Centreville Bank is a full-service mutual bank operating through nine branch locations in Coventry, Cranston (two locations), East Greenwich, Narragansett, North Kingstown, West Greenwich, Warwick, and West Warwick, and a loan production office in Providence. In addition, Putnam Bank, which is headquartered in Putnam, Connecticut, operates as a division of Centreville Bank and serves the Eastern Connecticut market. Centreville currently has total assets of $1.9 billion. For more information, please visit www.centrevillebank.com.