Paola Fernandez Promoted to SVP, Community Development Officer
October 19, 2022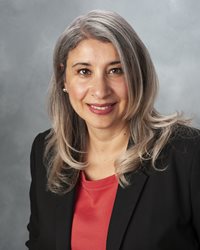 Centreville Bank Promotes Paola Fernandez to Senior Vice President, Community Development Officer
(WEST WARWICK, R.I.) October 19, 2022 – Centreville Bank President, Chief Executive Officer and Chairman of the Board Harold M. Horvat today announced that Paola Fernandez has been promoted to the position of senior vice president, community development officer.
In this role, Fernandez joins the Centreville Bank leadership team and continues to lead all community development efforts on behalf of the Bank.
"Paola's dedication to our Rhode Island and Connecticut communities is exemplary," said Horvat. "Over the last four years, Paola has been instrumental in developing Centreville Bank's community development strategy and fostering meaningful community-based relationships. We are proud to recognize her achievements and look forward to continuing to expand Centreville's community and philanthropic efforts."
Fernandez, who joined Centreville Bank in 2018 as vice president, community development, has more than 20 years of experience in the nonprofit, financial and government relations sectors. Prior to joining Centreville, she was assistant vice president, community development at Pawtucket Credit Union (now Coastal 1 Credit Union). Prior to that, Fernandez was director of public policy and government relations at United Way of Rhode Island, responsible for leading the development and promotion of the organization's public policy agenda and coordination of strategies and partnerships with local, state and federal government.
Actively involved in the community, Fernandez currently serves on several boards including United Way of Rhode Island where she is chairwoman of the Community Investment Committee and a senior fellow for the Institute for Nonprofit Practice. She is also a board member of the Economic Progress Institute. Fernandez previously served on the board of the Latino Policy Institute and was a co-founder of the Rhode Island Hispanic Chamber of Commerce.
Fernandez earned a bachelor's degree in Business Administration, Management and Operations from Johnson & Wales University, Providence, RI.