PCF Development
PCF Development is laser-focused on helping Rhode Island families obtain affordable housing.
It takes more than housing to build & sustain strong neighborhoods
For many in Rhode Island obtaining an affordable place to live is out of reach. As the state continues to suffer from a shortage of affordable housing stock, there is one organization that is laser-focused on helping to change that. The Centreville Bank Charitable Foundation is proud to partner with PCF Development with a grant in support of the First Time Home Buyers Program. The work of PCF Development aligns perfectly with Centreville Bank's priority of supporting initiatives that increase affordable housing because we believe everyone deserves a safe and affordable place to live.
"PCFD is a leading organization that successfully makes home-ownership a reality for many in Rhode Island. In keeping with the mission of increasing housing affordability and helping to prepare Rhode Islanders for a financially fit future, we are proud to partner and support their work." – Hal Horvat, President and CEO Centreville Bank.
Pawtucket Central Falls Development Corporation (PCFD) develops and manages affordable housing in Pawtucket and Central Falls and is now expanding its work to other communities in Rhode Island. Since 1990 PCFD's mission has been to build and support healthy neighborhoods where Rhode Islanders can afford to live and enjoy their community. This year, PCFD will be celebrating 30 years of helping dreams come true and in that journey has successfully completed more than 300 new rental units and over 75 new homes sold to first- time homebuyers.
By investing more than $40 million into the local community, PCF Development has created high quality affordable rental housing, new homeownership units, new pocket parks and has graduated more than 500 individuals from Homeownership and Financial Fitness education classes – all in communities that have a history of neglect and disinvestment. Today, these neighborhoods have stabilized and provide homes for thriving working class Rhode Island families. Most of these new homes replace former abandoned or foreclosed properties that were distressing the local community.
Once completed, the new, energy efficient and attractive homes drive tremendous interest, which helps support the organization's HomeBuyer Education classes. At the same time, the 150 annual graduates from the HomeBuyer education, Landlord and Financial Fitness classes create a robust market in the for-sale homeownership opportunities. "Our real estate development has made a lasting impact in areas that were once notorious for transient housing and crime. Beneficiaries of our work are predominantly low to moderate income families with single-parent female head of households.
The Homebuyer Education Program is a major component of the success of the organization – PCFD believes it is critically important to equip first time homebuyers with the resources and skills needed to save for and acquire their first home. They offer classes and one-on-one counseling for first time homebuyers and landlord classes for existing homeowners looking to have their homes work for them. The program is led by a HUD-certified counselor and takes place at their main office in Pawtucket. The eight-hour program focuses on credit improvement or building, developing a family budget, resources and tools to understand the buying process and how to secure an affordable mortgage.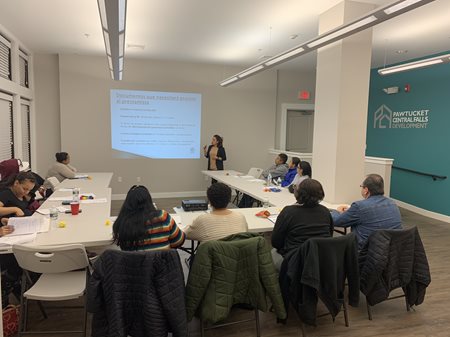 "We are very excited to receive the financial support from Centreville Bank for this program during such a critical time because it allows us prepare and educate buyers to ensure a family's housing stability that they can count on for years to come. We thank Centreville Bank for recognizing the importance of this work and look forward to the opportunity to create a long-term partnership that both educates new homeowners and connects buyers to safe, quality and affordable homeownership housing." ." – Linda Weisinger, Executive Director at PCFD.
We applaud PCFD for their work during the last 30 years in building and providing Rhode Islanders with an affordable place to call home and look forward to watching the organization continue to grow.